OUR PEOPLE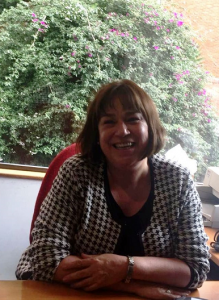 ALICIA GAST
PARTNER
Alicia has more than 35 years in the Colombian maritime field is one of the P&I Correspondent with more knowledge and experience in the country. Graduated as lawyer from University Nuestra Señora del Rosario, with an LLM Degree in Marine and Insurance law from the University of Southampton (England) Alicia worked for Flota Mercante Grancolombiana for more than 20 years as Head of the Insurance and Claims Department, being responsible for all types of claims, casualties, placing and renewing all FMG insurance policies in the international market and, implementing Risk control programs. Working together with Jardines Matheson she had practical training in Ship management in Hong Kong, Pusan Korea (Shipyards) and Philippines (Crew manning). She was an active member of the Association of Latin-American Shipowners, ALAMAR, and the Colombian Ship Owners Association ARMACOL which published her first book titled "The Legal & Practical Effects of Hamburg Rules" which led her to various invitations, thereafter to give conferences in Uruguay and Chile always defending the point of view and interests of the ship owners.She has contributed with many other publications for Clubs and Maritime magazines.
Founder of A&A MULTINSPEC in 1991 she led this firm – during 20 years – to be one of the leading P&I Correspondent in Colombia .
Since September 2010 she's  partner of  A&A Multiprime.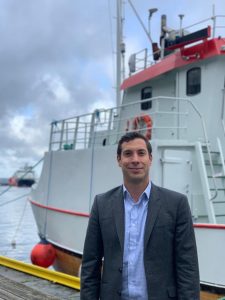 SANTIAGO MORENO ANDRADE
PARTNER
Santiago is a Partner and Head of the Legal Practice of A&A Multiprime since 2010. His practice is diverse, with an emphasis on maritime law, international trade, insurance and re-insurance. Santiago has more than 18 years of experience in handling all forms of P&I, H&M and FDD claims and casualties as a lawyer and Correspondent in Colombia. He has led the successful litigation of shipping landmark high profile cases before the High Courts and Harbour Master offices relating to collisions, groundings, salvage, total losses, safe port issues, disputes involving bill of ladings, charterparties and general average matters. In addition, he currently serves as an advisor to local and international clients on cross border transactions, complex commercial contracts, risk management and marine fraud investigation. Santiago also led the expansion of A&A Multiprime to become H&M Correspondent in various Central American countries.
In 2006 he worked as foreign associate at the law firm Stephenson Harwood, LLP (London Office). Santiago holds an LLM degree (Master of Laws) in Maritime and Commercial Law from the University of London – University College London (UCL) in London, UK. He also holds a Law Degree from Universidad de los Andes, School of Law in Bogotá, Colombia. Santiago is a Professor of Maritime Law at the Master of Commercial Law at Universidad de los Andes (Bogotá, Colombia) and of Procedural Law at Universidad Javeriana (Bogota, Colombia). He is a Certified Anti-Money Laundering Specialist ("CAMS") and is fluent in Spanish and English.
JUAN MANUEL PINZON
PARTNER
Juan Manuel is a partner at A&A Multiprime. After obtaining his law degree at Universidad de los Andes, Juan Manuel worked for A&A Multinspec in Colombia from 2003 to 2005 as a claims handler dealing with all types of maritime claims. Then he went to study a LLM in the University of Virginia, focusing on international business transactions and alternative dispute resolution. After LLM  graduation Juan Manuel worked for a top law firm in international trade and in 2007 he joined Citibank, where he worked for 5 years and was selected as a "high potential lawyer" becoming assistant vice-president.  In 2010 Juan Manuel finished the executive MBA program at INALDE Business School, where he currently acts as Studies Director in the Executive MBA.
 In July 2010, Juan Manuel founded the company Protección de Riesgos PR Ltda. (PR) an expert insurance consultant/intermediary. In addition, he also initiated a legal practice specialized on insurance and maritime law, acting as a trusted insurance and external legal advisor for A&A Multiprime and other important companies in Colombia. He has been appointed and recommended to defend the interests of clients in matters related to collisions, groundings, pollution cases before the Harbor Master offices and the General Maritime Direction of Colombia. As a professional he is passionate about maritime related matters and making sure that clients and get the best possible service          
 Juan Manuel has been practicing Insurance and maritime law for more than 14 years. On July 2018 Juan Manuel was invited to become partner of A&A Multiprime and he joined our team on July 2020. He is fluent in Spanish and English.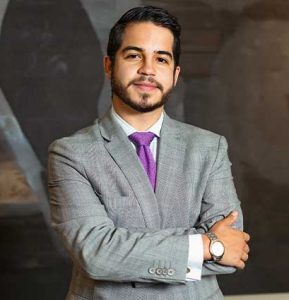 CARLOS DUQUE
SENIOR ASSOCIATE
Carlos is the Senior Associate of our legal practice and our marine claims handling department.
He has worked in the international trade and maritime law field since 2017, acting with success on behalf of different ship owners, charterers, shipping agents, P&I Clubs, and H&M Clubs in various contentious and non-contentious matters, including cargo claims, investigations before Harbor Master offices, tortious and contractual liability proceedings, among others.
He also has a broad knowledge and experience in foreign trade mechanisms and customs law, the application of free trade agreements and arbitral proceedings, topics on which he has provided legal assistance to both national and foreign companies.
Carlos holds a Law Degree from the Pontificia Universidad Javeriana and is pursuing a post-graduate specialization on liability and compensable damages. He is fluent in English and Spanish.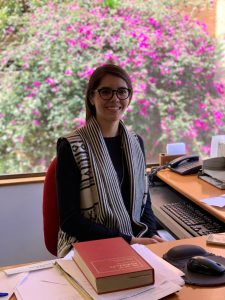 CAMILA ROJAS
ASSOCIATE
Camila is an associate at our legal practice and at our marine claims handling department. Her work at A&A Multiprime involves acting for ship owners, P&I clubs and charterers in various contentious and non-contentious matters.
Graduated as Lawyer from Universidad de los Andes (Bogotá, Colombia) and as post graduate specialized in International Business Law from Universidad de los Andes (Bogotá, Colombia). She worked as a Claims Manager at a multinational Freight Forwarder for 3.5 years and also as a consulting lawyer in local firms in commercial, transportation, maritime, logistics and insurance matters. She is fluent in Spanish and English.
THEKLA MITSI
ASSOCIATE
Thekla is a Greek Lawyer graduated from Aristoteleion University of Thessaloniki, with a Master (LL.M) in Commercial and Company Law of Erasmus University Rotterdam, emphasising the areas of Maritime and Transport Law.   
Thekla is a Lecturer of International Maritime Law in the University of Rosario in Bogotá. She counts with 3 years of diverse work experience of legal practice in Greece in the fields of comercial, civil, corporate, real estate and penal law, as an associate and freelance lawyer. She has worked also as an intern in the Legal Counsil of the Greek State and in the County Court of Katerini. She speaks English, Greek, Spanish and French.
She has joined the marine handling department of A&A Multiprime as a Claims Handler, focusing on the Greek and European portfolio.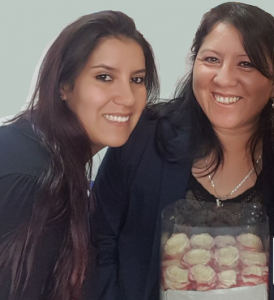 LAURA MOJICA/BLANCA RIVERA
FINANCIAL & ADMINISTRATIVE DEPARTMENT
Laura is our administrative coordinator. She has worked as an admin/finance coordinator in several prestigious domestic companies she holds a BA/Degree.
Blanca Rivera has work in the company for more than eighteen years and know very well our company, she is in charge of all administrative matters.
ENGINEER MANUEL CALDERÓN
MARINE SURVEYOR – BARRANQUILLA
Eng. Manuel Calderon is a graduated Naval Engineer as well as a Captain from the Colombian Navy Academy of Cartagena. From 1987 to 1990, worked for Flota Mercante Grancolombiana, first as Chief Engineer on board and later on as Overseas Dry Dock Inspector. He is a licensed Naval Inspector from the Colombian General Maritime Direction (DIMAR) as well as from other international Class Societies . Eng. Calderon has attended many national and international courses and diplomats specifically addressed for Marine Inspectors-among others- in the areas of SOLAS, MARPOL, IMO Code, ISPS, ISM, Port State Control Conventions. In the P&I area, Eng. Calderon has the right and opportune contacts with Port Authorities and Port Facilities Administrations, which assures an efficient handling of your particular cases.
CAPTAIN MIGUEL ANTONIO CARO
MARINE SURVEYOR- BUENAVENTURA
Graduated on 1985 from Cartagena´s Naval Academy after being in command of Pacific patrol submarines , and thereafter merchant vessels . He was trained in Germany, Holland and Sweden among other topics on satellite navigation , ship's computers and electrical systems.Thereafter he was appointed Commander of the Naval forces in the Pacific Area. On his civil life he was awarded with various Honours degrees by the Army, the Major and the Governor of the Pacific region for his contribution to Buenaventura´s Port development. For the last twelve years after obtaining his license to operate as qualified surveyor " Navigation & Deck" and " Naval Engineer" category A , he worked for various Classification Societies like Lloyds and is now "our man" in this Area.Captain Caro and his staff also attend the ports of Tumaco and Leticia.
CAPTAIN ALBERTO CUÉLLAR GARZÓN
MARINE SURVEYOR – SANTA MARTA
Captain Cuellar obtained a degree from the Colombian Naval Academy of Cartagena. From 1977 to 1983, Captain Cuellar worked for the Flota Mercante Grancolombiana as First Officer onboard different types of Vessels.
He has a license as Naval Surveyor from the Colombian General Maritime Direction (DIMAR). Captain Cuellar has attended many national and international courses and diplomats specifically addressed for Marine Inspectors in the areas of IMO and ISPS many other international conventions and entities.
ENGINEER ALFREDO ORCASITAS
MARINE SURVEYOR – PUERTO BOLIVAR
Eng. Orcasitas is our very valuable "local" Marine surveyor at "La Guajira" Department located at the very North of Colombia, where it is located one of the major Coal Terminals, Puerto Bolivar. In this very exotic almost desert area one could say that a very autochthonous culture prevails, therefore he speaks the native cultural language, is quite known by the people, is familiar with their traditions etc, expertise that no "foreigner" might be able to achieve so easily..
We get to know Engineer Orcasitas as a very well respected Chief Engineer of Flota Mercante Grancolombiana vessels, company with whom he works from 1970 to 1992. and , as complementary studies, among others, we can mentioned ,Training at Gdansk Drydock (polland) before delivery of three new buildings, Course on Practical Boiler Water testing (New Jersey, 1983) Training Course on Motor Diesels (Switzerland, 1986), US Department of the Treasury Sea Carrier training (Miami, 1987), Training on Refrigeration Plants ( Sweden 1983) and obtained a degree on Managing skills from the University of Cartagena, (1996). Thereafter he was appointed representative for GRANELCO ( bulk carrier that belongs to FMGs group) and Manager of FMG's Port agency in La Guajira (from 1993 to 1996).
Eng Orcasitas performs as full licensed Naval Marine Surveyor in all the North area of our country and has been working with us since 1997